When searching for a new office chair, you just have so many different types of chairs, models, features, colors, and materials. It's almost overwhelming looking at all these just to choose an office chair.
However, you probably already know about the importance of having a good office chair. It can be beautiful or ugly, but as long as it's comfortable, ergonomic, and provides good support for your back, it's almost certain that it's a good choice.
However, before you even start looking at all these factors, you need to know the size of the chair you want to buy. Everyone is different and each one of us require a chair design that best fits our work needs as well as our body types.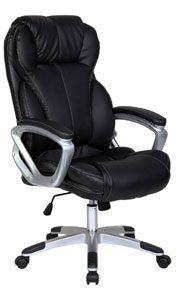 Click to Check Price on Amazon
Here are the different office chairs sizes:
#1: Petite Chairs:
The petite office chairs are smaller than the average office chairs since they are designed especially for smaller persons. Usually, the petite chairs have a narrower seat width, a shorter back height, and a shallower seat pan.
#2: Standard Chairs:
Standard office chairs tend to work well for almost everyone. However, they are designed thinking about people who weight less than 250 pounds. Anyone with a height between 5'4″ and 6'1″ should be able to fit well on these chairs. Despite these are the most common office chairs available in the market, they vary widely in terms of the features and adjustments they have.
#3: Heavy Duty Office Chairs: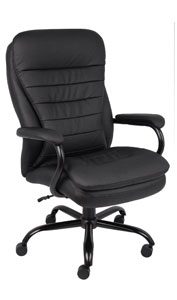 Click to Check Price on Amazon
Heavy duty office chairs are also known as big & tall chairs. They are specially designed for taller people, usually with more than 6'1″ height. The heavy duty office chairs have a plush support and offer a larger weight capacity. You can also find different categories inside the heavy duty office chairs when considering the different weight capabilities. You can have office chairs that support up to 350 pounds, up to 500 pounds, and more.
Despite the heavy duty office chairs are meant for taller and heavier individuals, there are still ergonomic chairs, executive styles, and more basic computer selections.
This differences regarding the sizes of the office chairs allow them to be safer for the users.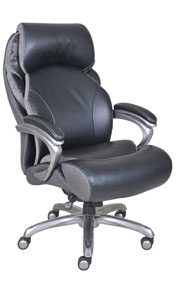 Click to Check Price on Amazon
Most businesses tend to just choose one model for the office chair. However, by doing this, they are not making sure everyone is able to work in the best conditions as well as be more productive. When someone isn't comfortable in the office chair, he will tend to make more breaks. Besides, when the back pain starts to increase, the person needs to go see a doctor, which means he won't be able to work. Ultimately, investing in good office chairs, appropriate to each individual, is a choice that really pays well. Not only employees will be more comfortable, they'll also be more productive. Overall, it's a win-win situation for the company. When choosing an office chair, quality matters. And even if the company needs to pay a little more for each office chair, it ends up paying off.
Read more office chair reviews and guides at bestofficechair.org.