More and more people are looking for versatile office chairs that they can use during the day to work and to use when they are gaming with their friends. There are multiple reasons that are leading to this change in the market. The first one is the tight budget many people have. If they can buy a better chair instead of two, for a better price, they prefer. In the second place, most people homes are becoming smaller. And while it is ok to have an office chair or a gaming chair, it's not that ok to have two because they just take a lot of space.
So, thinking about these specific people, we decided to get a deeper look at one of the most versatile chairs on the market that you can use either as an office chair as well as a gaming chair – the GTracing Ergonomic Office Chair.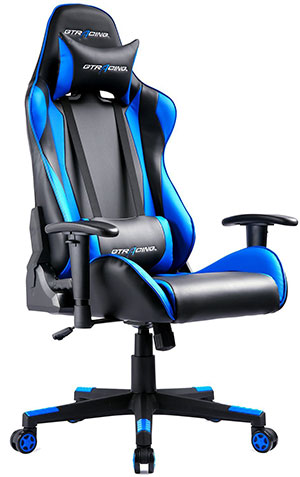 Click to Check Price on Amazon
Featuring an ergonomic design like most office and gaming chairs, the GTracing office chair is very comfortable and offers a good support for your back.
Make sure to also check out other ergonomic office chairs.
The GTracing office chair is built using a metal frame and it is covered with an artificial leather that is not only beautiful and soft, as it is extremely easy to clean.
The backrest of the GTracing office chair includes multiple cushions that will make sure that your spine is perfectly aligned. This will avoid all that lower back pain that tends to affect you when you sit for many straight hours. However, this amazing office chair also allows you to easily remove the headrest pillow as well as the lumbar cushion.
Even though both the pillow and the cushion can be particularly helpful for getting the extra support for your back, neck, and shoulders, the truth is that they can come in your way when you decide to recline the GTracing office chair. So, it really doesn't matter if you're using the GTracing office chair to work, study or to play games with your friends, this is a perfect choice.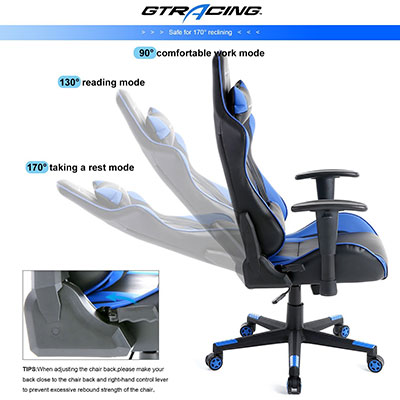 One of the best things about the GTracing office chair is the fact that it is completely adjustable. And this is one more reason why it can be so versatile. The first adjustment that you need to make when you get your GTracing office chair is the seat height. You need to make sure that your feet remain flat on the floor as well as that the GTracing racing chair height is adapted to your desk height. Then, it's time to check the backrest angle, that is independent. Just put the GTracing racing chair in the most comfortable position for what you're about to do.
The armrests on this chair are also cushioned and contoured to the shape of your arm. This will make sure that they will be adjusted automatically when you adjust the seat height.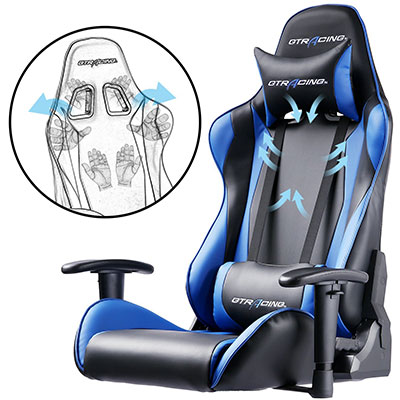 Using the same handle with which you adjusted the seat height, you'll be able to control the tilt of the GTracing racing chair from not rocking at all and up to rocking back and forth.
The GTracing racing chair weight capacity is up to 330 pounds.